(This is the third of three posts on what we've dubbed the Leacock Road Trip — five men, four of them winners of the Leacock medal for humour (the other the curator of the Leacock Museum), transporting a portion of the ashes of a fifth winner to be distributed on the property of a sixth. Parts one and two can be found here and here.)
The epic Leacock Roadtrip wrapped up yesterday as Air Canada flight 110 from Calgary touched down in Toronto. We were a tired but happy group as we gathered our luggage. It felt as though the whole thing went as well as we could possibly have hoped, including perfect weather for Monday's full-day's drive east through the mountains from Yale to Banff.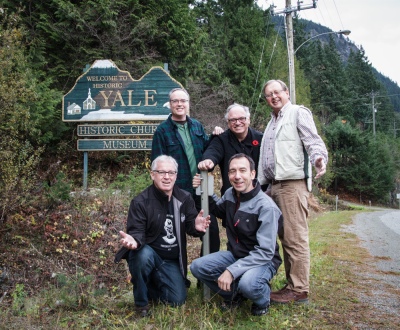 But you don't want to hear about the weather, or how beautifully Lushington the van handled on the Trans-Canada Highway, or how Terry Fallis's leftover pizza slid back and forth across the van floor for days. You want to hear about how the day went with W.P. Kinsella, the spreading of Paul Quarrington's ashes, and the reading that followed.
We drove from Merritt BC to Yale on Sunday morning and arrived first at the Yale Trading Post. We were looking for a restaurant, hoping to grab a bite before meeting up with Kinsella. But Yale is too small for a sit-down eatery. The Trading Post had snacks though — it billed itself as Yale's "Junkfood specialist" — so we loaded up on nuts and bananas (eschewing Fallis's pizza, having deemed it by now too old and perhaps dusty). We also checked out the store's wide selection of books on gold-panning and its Deluxe Gold-panning kits. Yale sits right on the Fraser river, and gold was first discovered here in 1858. At the town's peak its population sat somewhere between 25,000 and 40,000 people. These days it's around 150, one of whom is rather famous.
W.P. Kinsella lives by himself in a modest home on a grassy, sloping property an easy ball toss from the river. When the troop of us arrived at his door at about 1pm, Kinsella, tall and slightly stooped, sporting wispy white hair and a Field of Dreams sweatshirt, invited us in.
For a few minutes we chatted in his living room and immediately took to calling him "Bill." He didn't seem to mind the presumption. We admired the paintings on his walls — almost all of them by his favourite artist, Alan Sapp — and the Stellers Jays bullying off the small birds at his window feeder. If you'd like to know what a blue jay might look like if he pumped iron and joined a biker gang, the Stellar Jay would serve as a decent approximation. Kinsella warned us that if he shouted suddenly, the reason would not be tourettes, but an effort to scare off the jays.
Kinsella's wife Barbara died about a year ago, and Kinsella says he lived in this house for her, so how long he'll remain isn't clear. But we were happy to find him well, and after a few minutes, he led us to the section of property that he thought would serve for the distributing of this portion of Paul Quarrington's ashes. It was a section of land covered in trees and grass now, but Kinsella explained that in the gold rush days, it featured bars and whorehouses. Somehow we thought Paul would approve.
We said a few words, and Fred Addis, who had transported the ashes, gave the honor of pouring them to Joe Kertes, who had known Paul the best of all of us. When it was done, and it was good, we headed to the Yale public library, which had formerly been a school when the town actually featured children.
To be honest, we had no idea what to expect, and given the size of the community we would have been happy with any turnout at all at this little event. So we were delighted, and I think so was Bill, to see a full auditorium waiting for him.
They were a great, responsive audience, many of whom had never been to a literary reading before, and they clearly loved Bill Kinsella. We all read from the books that had won us the Leacock, and we each told a story about Paul. And then Kinsella rose and entertained his audience with stories about his fictional uncle Cal, a short, rotund and freckled southerner whom the ladies loved like candy. Kinsella went for twenty minutes or more, without referring to notes, and in the end got a standing ovation.
Later, before a quiet dinner back at the Teague House, where we were staying, Kinsella signed a few books for us. Dan Needles asked him to "write something sarcastic" in his. After a moment's thought, and bearing in mind the attitude many westerners hold of Toronto, Kinsella wrote: "Go back to the centre of the universe…"
So, having done all we'd set out to do, and after a restorative sleep in one of the oldest houses in British Columbia, we did.