This is a pretty exciting time in any author's life. Particularly so for me, because it's been five years since the last time I published a book. I'm a bit out of practice.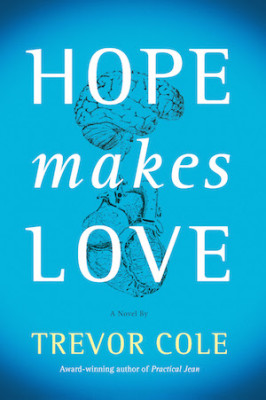 But come Sept. 5 it happens. And then it's out of my hands, and the world will decide what it thinks of Hope Makes Love. Whatever it decides, I'm happy. I know it's the book I had to write, and I'm grateful to Marc Coté and Cormorant Books for giving me a chance to share it with readers.
It's a slightly different kind of book for me. I'm considered a comic novelist, or a humorist, and that's a label I wrestle with, because while I enjoy making people laugh, I think there's a lot more to what I do than humor. But as a result of that label, there will be readers coming to Hope Makes Love with the expectation of laughter. And I have to tell you, it's not that kind of book.
There are some chuckles in Hope Makes Love, but that's mostly due to the somewhat raucous personality of Zep Baker, who never met a swearword he didn't like, or a driver on the road he wouldn't yell at. Beyond that though, this is a quieter, more serious book. It's an exploration of love, and fear, and the water-ripples of trauma and regret. Hope Riopelle, the other main character besides Zep, is a thoughtful and reserved woman. She has good reason to exist warily in the world, and if much of the book's energy comes from Zep, much of its soul comes from her.
I love both of these characters deeply, as real people with whom I have spent a great deal of quality, meaningful time, and I really do hope that readers will find reasons to love them as well.
Trevor