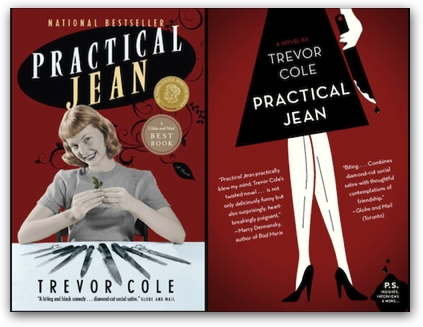 Trevor Cole's third novel takes readers to the small, fictional town of Kotemee, where Jean Vale Horemarsh — loving daughter, devoted friend — makes a momentous decision. One that will forever change the lives of everyone she loves.
Practical Jean in Pictures

This short video documents a fun project by local Hamilton photographers to depict scenes from
Practical Jean
in photographs..
WARNING: This video contains plot spoilers!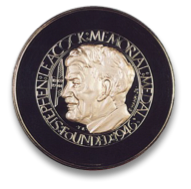 WINNER
of The 2011 Leacock Medal for Humour

Short-listed for:
The Rogers Writers' Trust Fiction Prize
Named:
A Globe and Mail Best Book for 2010


"Wonderfully bitter fruits"

"In his U.S. debut, Canadian novelist Cole delivers a cagey satirical noir.... Wicked humor glints kitchen-knife bright as the unhinged Jean blithely traverses the suburbs dispensing her most intimate friends."
—
Publishers Weekly


"Suspenseful"

"A major strength of this amusing yet horrifying novel is the detail in which Cole depicts characters and settings.... Exceeding the predictable by a long shot, this will beguile readers possessing a sardonic streak as well those who appreciate gallows humor."
—
Booklist
"A worthy contender for Book of the Year"

"
Practical Jean: A Novel
is more than just a hilarious modern-day
Arsenic and Old Lace
or the TV's "Dexter" in a dress. It's a shrewd observation of the psyche going badly wrong."
—
New York Journal of Books

"Diamond-cut"
"Should be a starred pick for every book club... [Practical Jean] combines diamond-cut social satire with thoughtful contemplations of friendship's burdens, meaning and purpose.
—
Globe and Mail
"Near-perfect"

"A jaw-dropping, near-perfect satire."
—
Chatelaine
"Sly satire"

"Props to Trevor Cole. He's not afraid to take a few risks. His sly satire ... could have swung wildly from melodrama to comedy ... But Cole keeps complete tonal control to the end... [He] writes with tremendous energy."
—
Now Magazine
"Compelling"
"
Practical Jean
, which was a finalist for this year's Rogers Writers' Trust Prize for Fiction, is the most bizarre and also the most serious of Cole's serious comic novels so far ... A sometimes eccentric, often compelling meditation on morality and mortality ... It's hard to imagine it being smarter."
—
Montreal Gazette


"Rare"
"
Practical Jean
is that rare thing — a novel that tackles a deep, dark philosophical question through seemingly banal events and leaves the reader pondering for days after reading the last page."
—
Vancouver Sun

"Clever and timely"
"Cole mines the fruitful valley of female relationships comedically in a macabre romp through middle-class North America."
—
Telegraph-Journal
Click on the books for more details.
Practical Jean
is published by McClelland & Stewart