We journey for different reasons, but they come down to one of two things I think: To get away, or to find. Sometimes it's both.
Six or seven months ago, I decided I needed to move away from the life I had toward something new. I was struggling to start a new novel, and realized I was stuck in more ways than one. I could simply have relocated. But rather than just move from one home to another, I thought deep and decided that, first, I needed to wander.
This wasn't an obvious choice for me. I'm a guy who appreciates a certain amount of certainty. I have generally thrived creatively when most other things in my life are solid. But this time, a period of uncertainty seemed just what I needed. So after getting rid of as much of my furniture, my stuff, as I could bear to part with, I shoved what remained — all but the bare essentials — into storage. The bare essentials included books I thought I'd need, clothes for the summer and early fall, a few kitchen essentials, and my ukelele. Then, after managing to squeeze in a not-insignificant car accident in the few days that remained, I set out. (I know, you'd like more details about that accident, but it's really the focus of another post that may never appear.)
The journey pointed east, and the first thing it did was take me away from the city of Hamilton, which had been my home for the previous ten years. Some of my happiest days occurred during my life in Hamilton. All three of my books so far were published while I lived there. The country came to know me as a "Hamilton writer," though I'd spent more years as a journalist in Toronto. But for me, Hamilton was home to my marriage and the often happy life my wife and child and I built there. When the marriage ended, it was inevitable that my time in Hamilton would too.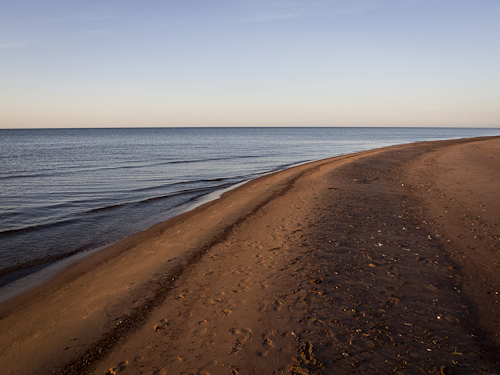 With the car loaded up, I headed to PEI first. Canadians don't think a lot about the Gentle Island. It's a forgotten corner, doing little to grab attention for itself. But for me it's the repository of a lot of fond memories. I spent many summers there as a young boy, when my father acted in the Charlottetown Festival. And returning there was a balm to me. June in PEI is not the ideal tourist month — blackflies and cold water prevail — but for me it was perfect. I had all the seafood I could eat, live lobster delivered right to my door by the fisherman who caught it, oysters and clams and mussels by the pound. I had sand and waves and sea air, and during the month I was there I made one or two new friends.
Friends are everything, it's becoming increasingly clear to me, and one thing this journey did for me was to remind me that I can make them anywhere. Although, maybe I just got lucky, because east-coasters are a particularly friendly lot. I certainly encountered more than my fair share of good souls.
After PEI it was Gillams, on the west coast of Newfoundland, where the seafood was not as abundant, strangely — even the chefs of Newfoundland were complaining about the lack of seafood available to feed to visitors — but other things were.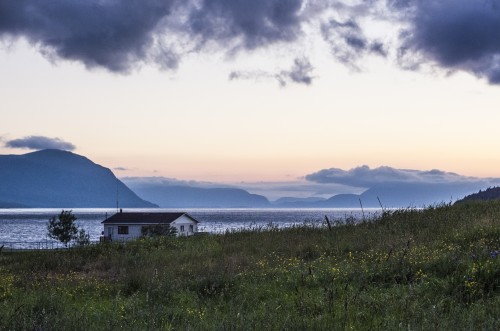 It was an eventful few weeks in Gillams. The home I lived in, it turned out, was also home to innumerable rodents. No, I'm not counting them among my new friends. But between them and me, they seemed to have the stronger claim to the place, even though the house came equipped with a cat. Minky did her best — four kills, including one I witnessed, in the time I was there. But sometimes things don't work out. You can't control what you encounter on a journey, you can only control how you respond. And despite the efforts of some good folks who took me under their wing — shout out to Olive and Colleen — I decided to cut my losses and move on.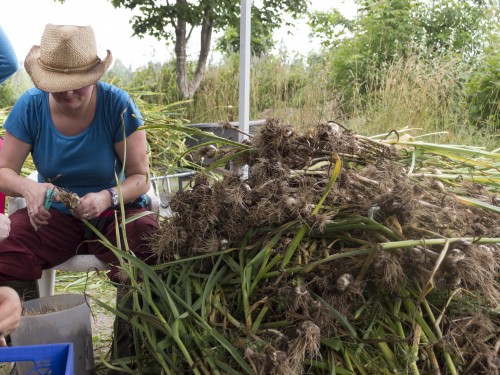 To Halifax! A city in which I'd long wanted to spend some quality time. I got it — six weeks of fine weather, great music and, again, more seafood. I became an habitué of the Fisherman's Market — four or five grades of lobster available at all times, thank you, arrayed in large tanks —and again, met some fine people. Halifax has a unique do-it-yourself spirit. Piggybacking on the efforts of others, I harvested garlic in the Nova Scotia countryside, I listened to backyard concerts and attended a neighbourhood lecture series. I also met a number of fine writers (you can hear the results of those encounters at www.authorsaloud.com ).
Then the trek took me back to Ontario, and six weeks of almost perfect autumn weather in a gorgeous log cabin on a small Muskoka lake. The Internet was a bit sketchy up there — more than once I teetered on the lip of a cliff or the dock below, trying to get a cell signal — but in the quiet moments I started to connect with the thing that was missing for me before, that sense of "what's next." I began work, hallelujah, on a new novel, and I felt the return of the need to settle, to find some certainty. (Also, I didn't have enough warm clothes for deep fall in the Muskokas!)
So the journey has ended, for now, in Toronto. That's where I'll make my home, for the foreseeable future. And knowing that I've made the right choice, and that I've gotten unstuck, creatively and otherwise, means that the journey has done its work.
Well done, journey. Well done.